FARSØ: Sommerferien var kun en uge gammel, da 110 drenge og piger i alderen fra fem til fjorten år i sidste uge øvede fodbold på Farsø Stadion.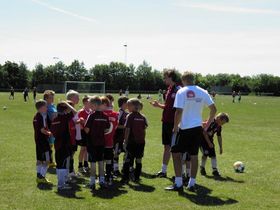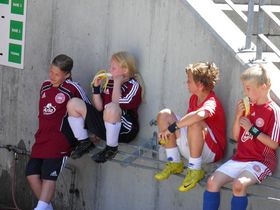 To fodboldskoler
Der var hele to fodboldskoler i gang på samme tid. DGI's fodboldskole med 46 deltagere, var for de helt unge spillere på fem til otte år. For flere af deltagerne var det samtidig en introduktion til fodbolden, idet de ikke havde et klubtilhørsforhold. Fodboldskolens indhold bestod hovedsagelig af masser af boldspil, leg og hygge.
På DBU's fodboldskole for de ni til fjortenårige, spiller de fleste af deltagerne allerede fodbold hos FUIK og synes om at bruge en del af sommerferien på fodbold. Årets tema for disse 64 spillere var VM-fodbold, hvor det det var finter og driblinger, det på tv – som der blevet øvet mange af.